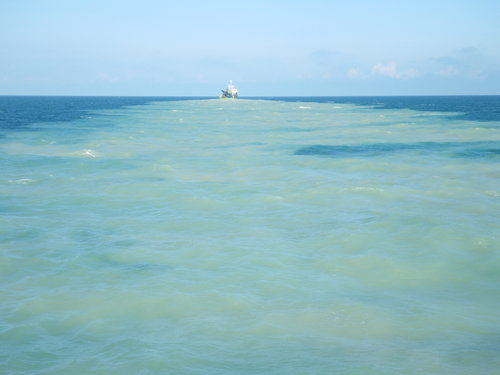 Dredging Consultancy
Ever since its foundation, more than 30 years ago, dredging consultancy forms the heart of IMDC's business. We can provide consultancy for just about any stage of your dredging project, ranging from master plan to detailed designing efforts, drawing up tender documents and budget estimates, to supervision and expert missions. Besides this, IMDC can also be your partner in assessing and recommendations for dredging techniques and equipment technology.
We investigate the disposal and treatment options of the dredged material and assess the environmental impact of the dredging operations, proposing mitigating measures where necessary. In short, our multidisciplinary team, many of them with substantial experience with worldwide-operating dredging contractors, can offer valuable help to our clients that want to create new or deeper ports and waterways (capital dredging),maintain the existing ones (maintenance dredging) or reclaim land on the water (reclamation dredging) in the most efficient way.
Dredging equipment
Using appropriate dredging equipment for the job is of utmost importance for the successful execution of a project. IMDC assists clients in choosing the appropriate dredge equipment and dredging methodology. Whether a client prefers to buy a new dredger or hire one, or maybe wants to modify and adapt one of their own existing dredgers, IMDC writes the specifications for the tender documents so that the optimal dredger is obtained for the job that has to be done. Our expertise also lies in evaluating and optimizing where possible the operational and technical performance of the clients' dredgers and, on a larger scale, provide them with advice on their fleet composition.
From feasibility study to execution
From a project idea until the realization is a long and difficult process. IMDC supports their client in this design process from start to finish:
The feasibility study in which the idea is translated into an actual project and the general outlines are evaluated ;
The basic design in which the parameters of the project are further elaborated ;
The detailed design in which the dredging volumes, cost estimation, project planning and phasing are determined in depth ;
Writing of the tender documents ;
Assisting the Client in the selection of the winning bid, in order to make sure he receives best value for his money. This process can include technical offer evaluation, answering bidder's queries, active involvement in negotiations with candidate-contractors, etc.
After this process, the project is ready to be executed and the works can start.
Site supervision and control
The IMDC dredging engineers all have ample practical experience with working on dredging projects. Therefore we can supply client representatives to supervise the contractor with expert knowledge, so that the works are executed and completed in full compliance with the client's needs and expectations. This includes among other things: accurate progress monitoring, relevant quality checks and technical and practical advice on the job with the support of an experienced multi-disciplinary back-office team where needed.
Disposal of dredged material and environmental impact
The environmental aspects related to dredging projects are becoming increasingly important. Not only the final destination of the dredged material, whether or not contaminated, might be an issue, also the turbidity created during the dredging operations turns to be a major point of attention. Therefore IMDC can assess for its clients the different disposal and, if necessary, treatment options available so that an efficient and environmental friendly process can be guaranteed. IMDC has extensive experience in the assessment of the impact of turbidity-generating activities. Through intensive monitoring and modelling of sediment plumes the behaviour and impact of head, overflow, spoil placement, reclamation area run off, propeller wash has been studied numerously for near-field (a few hundred meters) and far-field (1-100 km) impacts in various metocean conditions and for various soil types and project areas. IMDC even has developed an online Sediment Plume forecasting system, EcoPAM that supports clients in managing the dredge works environmentally. IMDC has specialized equipment to perform both stationary or vessel-based measurements of the turbidity and sediment plumes as well as 10- years of experience together with partner VITO-TAP in providing sediment maps based on remote sensing images (satellite, airplane or drone platforms).